Due to low member participation, we have postponed the production phase of the project. You may still submit your entries, please follow the instructions below. We currently have indefinite deadline. We will give a specific deadline until we feel like we've collected enough materials.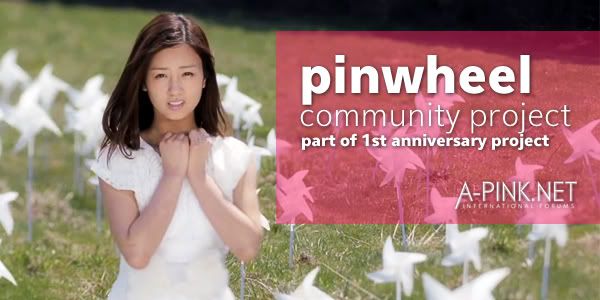 A Pink's anniversary is coming up on April 19, 2012! For this year's community created project, we will create a video compilation of Pink Pandas with their hand made pinwheels. We're all familiar with the pinwheels in Mollayo/I Don't Know MV right?
The pinwheels are a perfect reminder of A Pink's debut, we hope that even if we're done with this project, you will still display your pinwheels in your bedroom.



How to participate

1. Create your own pinwheel/s. Tutorial is provided below.

2. Film or Take a photo of yourself: Go somewhere special or nice, example, a park, beach, zoo (? lol) or one of your country's land mark. Poke the pinwheels you made into the ground or put it in a vase or just hold them. Film / take a photo of yourself.
*** We encourage you to film / take a photo with your friends / fellow Pink Pandas
*** It's nice if the pinwheel actually spin, but it's not required lol.
*** Imagine A Pink's music video with Pinwheel scene. If you don't want to be in the photo / video, that's okay as long as you got the pinwheels in shot.

3. Zip your videos / photos and label it with: Username - Full Name / Nickname - Country - Specific shooting place
If you filmed in with your friends, include a .doc or .txt file with your names and username. Zip the files.

4. Upload your video on Mediafire and send the download link to projects@a-pink.net with the title [PINWHEEL] Username - Country. Please make the video clips are good quality but have small file size.


Tutorials
alternative tutorial: Click

Patterns & Colors
Color Restriction: Pink and white pinwheels only (Hint of other colors is okay)
You may use these patterns:
Hearts - Red and Pink Hearts on White BG
Hearts - White and Pink Hearts on Pink BG
Hearts -
White and Pink Hearts on Blue BG
Gingham -
Here
and
here
(Pink ones)
Or find some more patterns on google
Or create your own pattern (printed or hand drawn using a marker, highlighter etc)
Some Inspirations
1, 2, 3, 4, 5, 6, 7, 8, 9, 10, 11
Deadline: March 26, 2012
Extended Deadline: March 30, 2012
Deadliest Deadline: April 7, 2012

FAQ
1. Do I need to talk in the video?
No, audio will not be included in the final video.

2. Do I really need to follow the tutorial or can I make my own style?
You can follow other pinwheel tutorials in the internet or make your own style.

3. Can I use other colors?
Yes, but main colors should be White and/or Pink. Hint of other colors is okay.

4. Can I draw my own pattern on the paper instead of printing?
Yes.

5. What kind of paper should I use?
As much as possible, use a slightly thick paper. Something like construction paper or oslo paper. Card board is too thick while bond paper is too thin.
6. Can I make different sizes of pinwheel?
Yes.

Edited by Chloe, 01 May 2012 - 11:51 PM.